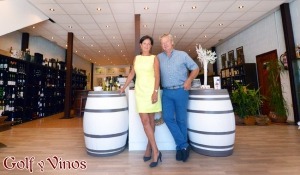 Golf y Vinos is a wine business dealing in the importation, distribution and sales of wines and spirits on the Costa del Sol, from Torremolinos to Estepona. In addition to Spanish wines, we import wines from many other countries. From Italy we supply  Brunellos, Ripasso, Amarone, etc. From France we have Champagne, Chablis, Sancerre, Blush wines from Provence, etc. We also have wines from South Africa, New Zealand, Argentina and Chile. Single malt whiskeys, Brandies, Stylish wine glasses, wine decanters and much more!
At Golf y Vinos, we also offer a variety of activities that are of interest to both visitors and residents on the Costa del Sol.
Golf Classes: These golf classes are conducted by Dan Olsson. Dan is a golf pro since 1982 and resident on the Spanish coast since 1994. He has held many golf classes and private golf lessons for beginners and experienced golfers. These are conducted at the Cerrado de Aguila Golf Club which is located in Mijas Costa / Fuengirola.
Golf Tournaments: For several years, Golf y Vinos has organised golf tournaments on the Costa del Sol. "Win Your Weight in Wine" has become the most popular and it is held in April every year!
Wine Tasting: At Golf y Vinos we organise wine tasting sessions for private groups and organisations. Most wine tasting occasions are held at our own premises, but they can also be held in private locations and restaurants. This is ideal for groups, clubs, associations etc, in combination with a tapas session or dinner prepared by our eminent Swedish chef, Tina Schön. We can organise an entertaining wine tasting session for your group over an entire evening.
Wine Tours: We organise golf and wine trips to various vinyards. Our latest trips have been mostly to the Rioja region, and Ribera del Duero in Spain. However we have also been to South Africa a number of times, Tuscany in Italy, and the Champagne region in France. All trips are combined with golf and dining.
Wine Shop: In our shop you can buy several good brands of wines and spirits from almost the whole world, and all at very affordable prices. In addition to a large selection of Spanish wines, we also have wines from Chile, Argentina, South Africa, France and Italy. We also have delicious brandies from Jerez, a large assortment of single malt whiskey, Spanish olive oils, wonderful Manchego cheeses and lots of other Iberian delicacies.
Come in and visit us at Golf y Vinos and make your stay a memorable one on the Costa del Sol.
LOCATION
Golf y Vinos SL
Camino Hera
Poligono Vega Cañadon, Nave 15-17
29650 Mijas Costa
SPAIN
OPENING HOURS
Mon to Fri:  10.00 – 14.00
Sat & Sun:    Closed